Coffee Shops In Nashville
Whether you need a caffeine buzz, a bite to eat, or a temporary place to call your office, Nashville has an abundance of coffeehouses to keep you buzzin', grubbin', and workin'. These are the top locally owned and operated coffee shops in Nashville based on atmosphere, food, and coffee (obviously).
Coffee Shops In Nashville
Cafe Coco
This eclectic gathering place in a cozy converted home near Nashville's famous "Rock Block" on Elliston Place has become a popular spot for bohemians to write poetry in their journals, freelancers to get a little quiet work done, and friends who are just fans of good coffee to meet over an artful espresso drink. The fact that Cafe Coco never closes from Thursday morning to Sunday is a bonus for night owls.
Crema
Situated in a low-slung building perched in an industrial strip of buildings on the banks of the Cumberland River between the base of Lower Broad and the burgeoning neighborhood past the Korean Veterans Bridge, Crema would be easy to drive right past if you didn't know that they serve some of the finest coffee in town, nay, the land! Traveling the world to discover the finest beans and vet the farmers who harvest them and then roasting them to the perfect level to draw out the nuances and flavors of the coffee, Crema has been the gold standard for Nashville coffee houses for more than a decade.
Pinewood Social
Patrons are welcome all day long at this classy emporium of fun, designed to offer all the amenities of a boutique hotel without all those pesky rooms above the lobby. The food menu changes throughout the day from breakfast to late night, and the coffee provided by Crema is a part of both specialty espresso drinks and cocktails. Enjoy the morning meal, stick around to work through lunch, have an afternoon meeting followed by happy hour and then bowl a few frames in their stylish vintage alley in back.
Frothy Monkey
Already one of Nashville's most beloved spots for coffee and conversation at its original 12 South location, Frothy Monkey has expanded its empire to multiple locations ranging as far away as Chattanooga. The real gamechanger, though, was when they got their liquor license that allowed them to serve a tight, well-curated list of wines at several of their outposts in addition to their regular menu of specialty coffee drinks and delicious food for breakfast, lunch, and dinner.
Barista Parlor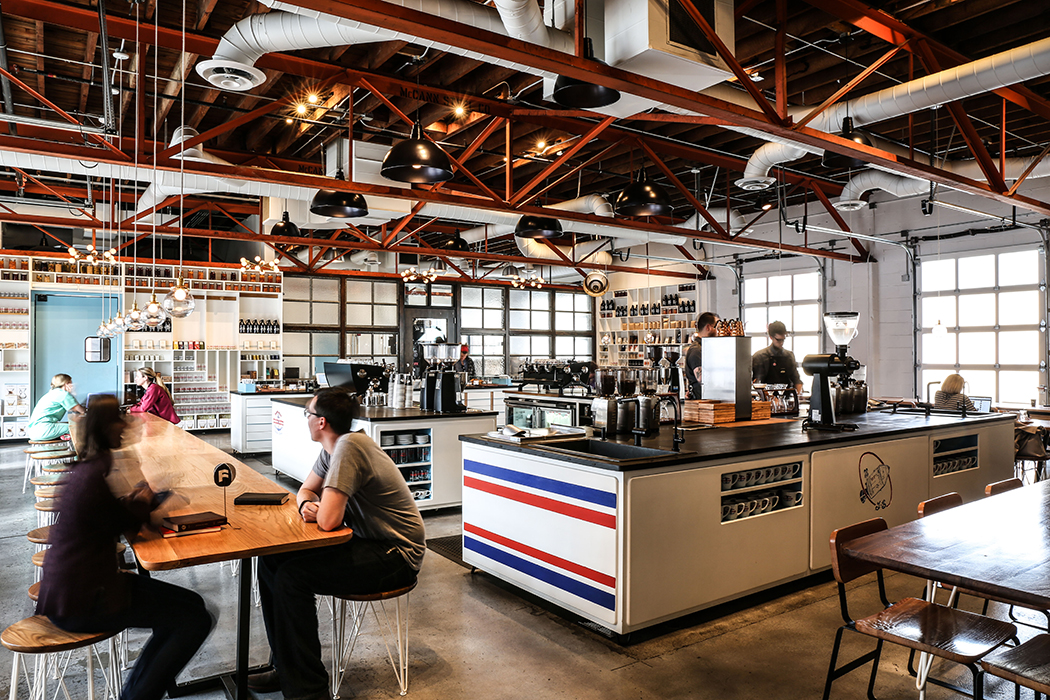 Nashville's best-known coffee house on a national level, owner Andy Mumma opened the original Barista Parlor on the east side in 2012, which quickly made a name for itself in the high-end coffee world. Since then Mumma has opened locations in the Gulch, Germantown, and Marathon Village, as well as Drug Store Coffee in the lobby of recently opened downtown boutique hotel Noelle.
Bongo Java
This is the grandfather in the local coffee world, having originally opened up on Belmont Avenue in 1993. Food plays as big a part as the brew here, serving hearty breakfast options all day long. The Bongo family has also grown considerably over the years, with it now including Fido, Jefferson Street Cafe, and Fenwick's 300, along with its own roasting operation.
Headquarters
It may be a tad small (nine feet wide, to be exact), but the eclectic Charlotte Avenue coffee shop's brews and free WiFi make it worth a stop. Favorite creative, caffeinated concoctions include the sorghum cinnamon latte and the cherry refresho — combining espresso and Mexican Coca-Cola. The shop offers baked goods from local bakeries Brightside, Dozen, Sweet 16th, and Vegan Vee.
Just Love Coffee Cafe
Deep in Music Row, Just Love Coffee Cafe is one of the coffee shops in Nashville, the perfect spot for shoppers and music-heads to get their caffeine hit. Alongside its signature lattes, cold brew and classic drip coffees, it also offers the "womelette" – a fresh omelet with sausage, cheese and more made in a waffle maker (genius, right?). Exposed brick and cute decor mean you'll feel at home here, any time of day. They say everyone deserves love and coffee, and they are right.
Bella Vista Coffee Shop
A little way from downtown Nashville, this well-regarded coffee shop is worth a stop in Smyrna. Owner Daniela Reina is popular among regulars for her dedication to Fairtrade products and her home-made baked goodies. Big kids will love the old-school video games as much as the Cookielicious Shake, which is as good as it sounds: cookie-and-cream ice cream, whipped cream, chocolate chip cookies and Oreo crumbles.
Tags :
coffee shops
drinks
Nashville