Luxury Hotels In Nashville
Nashville does its best to keep you out until the wee hours on honkytonk crawls, hot chicken pilgrimages, record shopping marathons and rockabilly dance-offs, but now a new crop of hotels is also vying for your attention. From a killer rooftop bar scene to an in-house art gallery, read on for our luxury hotels in Nashville to rest and recharge.
Luxury Hotels In Nashville
Nashville Marriott at Vanderbilt University
The 4-star Nashville Marriott at Vanderbilt University is a luxury hotel located at the foot of Centennial Park on the Vanderbilt University campus in the West end of Nashville. Nearby tourist attractions include the Parthenon and Athena statue in the park, Vanderbilt Stadium, and Music Row, while guests can also utilize the free shuttle service to and from downtown.
Guest rooms are modern and clean with mini-fridges and other conveniences like access to on-demand video streaming services, and family suites are available. Hotel amenities include room service, free Wi-Fi, a well-equipped fitness center, as well as the award-winning Park25 Bistro.
Omni Nashville hotel
This luxury hotel is situated right in the heart of Music City. The Omni Nashville is located adjacent to the Music City Convention Center, and it's an expansion of the Country Music Hall of Fame. Located on 5th Avenue and Korean Veterans Boulevard, the Omni is just blocks away from the sights and sounds of Lower Broadway. Visitors can enjoy clean, spacious rooms at the hotel, as well as signature dining and bars, and a specialty spa at the hotel. But when twilight falls, guests are just blocks away from local dining, honky-tonk bars, live music, and historic Nashville attractions like The Ryman.
Hutton hotel
Located in the cozy West End neighborhood, the Hutton Hotel is a sophisticated, stylish addition to Nashville's list of hotel offerings. At the Hutton Hotel, rooms are all about comfort and relaxed elegance. Many rooms offer granite bathrooms, rain showers, plush bedding, flat screen televisions, gourmet coffee and tea options, and wireless Internet access. At the forefront of the green movement, the Hutton has green recycling programs for glass, paper, and plastics, as well as LED lighting. While the Hutton Hotel is within walking distance of attractions like Vanderbilt University, The Parthenon, and Music Row, the hotel offers a complimentary shuttle to downtown. If guests are looking for a night in, the locally beloved 1808 Grille offers incredible dining and drinks, and the on-site spa offers services ranging from massages to body scrubs to body wraps.
Fairlane Hotel
Located in the heart of downtown Nashville, the Fairlane is near Broadway, just one block from the Tennessee State Museum and two from the State Capitol Building, within easy walking distance to top Nashville tourist attractions, like the Johnny Cash Museum and Country Music Hall of Fame.
Housed in a former bank building, the Fairlane embraces its history with retro décor, even in the bright, spacious guest rooms, which are simultaneously modern and nostalgic.
This luxury hotel is pet-friendly, and has not only a restaurant on-site, but also an excellent deli for quick meals and a coffee counter. Rooms and suites at the Fairlane have floor-to-ceiling windows, which afford great views of downtown, and hotel amenities include a fitness center and room service.
The Hermitage Hotel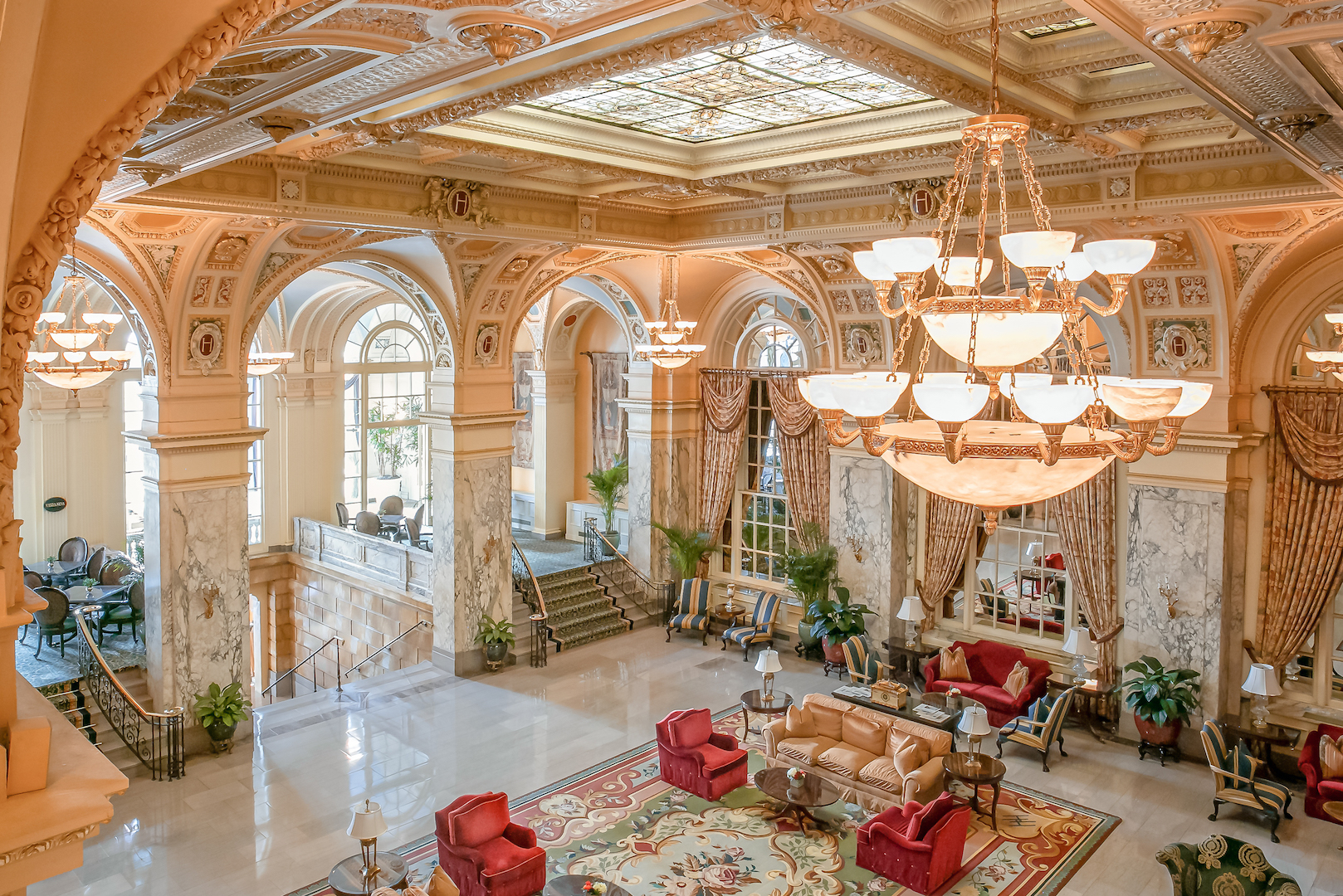 The Hermitage Hotel, one of the best luxury hotels in Nashville, located in downtown Nashville next to the Tennessee State Museum and the State Capitol. This luxury 5-star hotel is housed in a stunning Beaux Arts building, where the grand décor mixes with Southern charm – the lobby is a tourist attraction in its own right, featuring marble columns, arches, and a vaulted ceiling.
Guests are treated to the best service and amenities, including a highly rated on-site spa and adjoining fitness center.
Rooms and suites are spacious and bright, combining modern comfort with classic décor; each features a soaking tub and double sinks, turndown service, and free bottled water.
The Inn at Fontanel
The former home of country music star Barbara Mandrell, the Fontanel Mansion has been transformed into a luxury retreat, which features memorabilia and belongings of various country music stars who have stayed here over the years. The Inn is conveniently located near Nashville, less than 15 minutes north of the city, but exists in a world apart.
All of its luxury rooms and suites are dog-friendly, and family rooms are available for larger groups.
Guests can easily spend the entire day enjoying the property and its numerous amenities, starting the day with a made-to-order breakfast to fuel long walks on the nature trails, a bicycle ride around the property, an adventure on the zipline course, or a show at the amphitheater.
Other amenities include an indoor pool, on-site restaurant, beautiful common areas, and even an indoor shooting range.
Tags :
hotels
Nashville
travel