Best Restaurants In Dusseldorf
Restaurants in Dusseldorf range from classy business joints to traditional Black Forest taverns, encompassing dishes that range from Japanese and European haute-cuisine to the best beer in the land. Discover the contemporary trends and exquisite tastes of the city with this list of the best restaurants around.
Best Restaurants In Dusseldorf
1. Im Schiffchen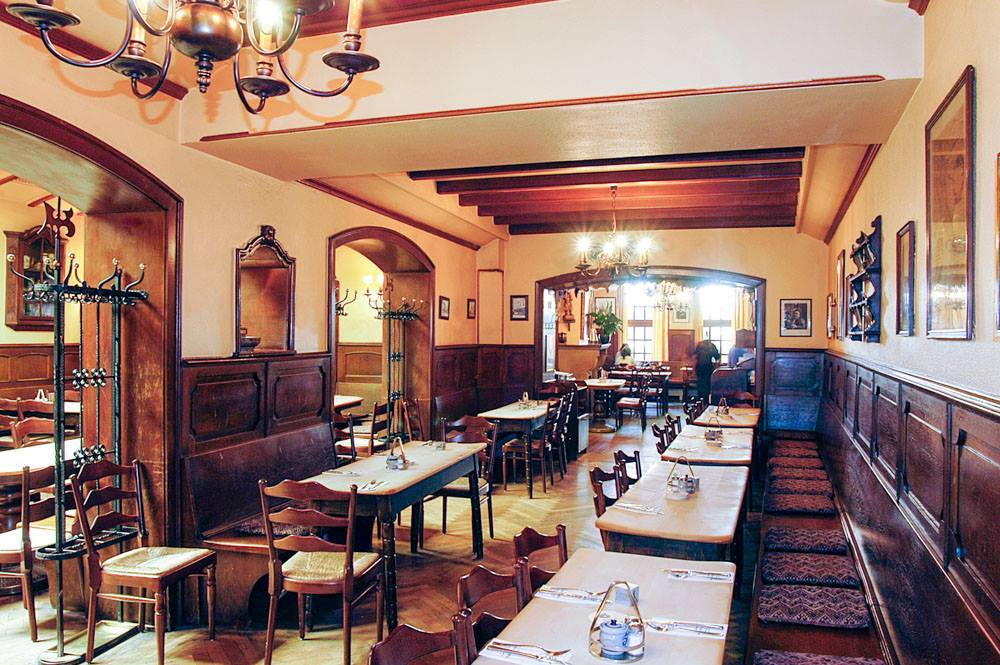 As far as fine dining goes, in Düsseldorf you can't do better than Im Schiffchen. With two Michelin stars, and having been named in the top 110 German restaurants by Gault & Millau (the respected French restaurant guide), Im Schiffchen is a Düsseldorf institution for a reason. This beautiful, baroque brick building sits in the heart of the Altstadt next to the Rhine. Warm, comfortable and inviting, the interior of the old building sets the stage for a meal you won't forget in a hurry. Since 1977, chef Jean-Claude Bourgueil has been at the helm of the operation, offering a menu of indulgent French dishes. Be sure to bookend your visit with a picturesque walk through the old city and along the Rhine.
2. Nagaya
European meets Japanese at this Michelin-starred address. The restaurant's namesake, Yoshizumi Nagaya, studied at Toshiro Kandagawa in Osaka, the best place to learn how to cook traditional Japanese cuisine. Nagaya and his wife opened the restaurant in 2003 and it has since gained a reputation for what some call the best Japanese food in Germany. Located in Düsseldorf's Japan quarter, Nagaya's minimalist, low-lit interior keeps the creatively plated courses in the spotlight. From sushi to Kobe beef to a foie gras terrine roll with octopus tempura, these small plates go a long way. Open for both lunch and dinner, it's a spot that's as good for a business lunch as it is for a special date. With a 12-course tasting menu coming in at 170 euros, it's not cheap, but Nagaya is a must-visit in Düsseldorf.
3. Agata's
Agata's is an unassuming and refined Michelin-starred gem. The place is named after its owner, Agata Reul, who is from Poland but has South-East Asian roots. The space features a neutral interior palette of light beiges and whites, letting the food speak for itself, with pops of colour punctuating each plate. Reul brings her diverse cultural background to the table, and the fixed menu is home to German-South Asian fusion dishes like a short-rib Kalbi with mustard miso, alongside more unexpected combinations like the duck liver with maple syrup teriyaki. Agata's also offers a lunch menu, which is more reasonably priced. If you're looking for a well thought-out and beautifully executed fine-dining experience, look no further.
4. Sansibar
Boasting exquisite panoramic views over the Rhine River from its perch on Media Harbor, Sansibar is a high-class lounge-come-bar that offers a multitude of international dishes. From juicy steaks to sushi, oysters, fresh fish and the traditional German curry-wurst, this joint by Breuninger is a smorgasbord of flavors. What's more, great wines abound, with more than 350 types on offer from the cellar. Located on the first floor of the Breuninger Center, Sansibar is a delight for all palates.
5. DOX Restaurant
Perched high on the upper floors of the Hyatt Regency, Dox Restaurant manages to combine chic, glamorous interiors and modern service with a classic Japanese kitchen. Watch out for some great marinated fruits and the trademark 'chirashi rice DOX', a fresh mélange of the fish of the day, shrimps, avocado, yuzu mayo and unagi sauce.
6. BOB & MARY
Not just another burger place, Bob & Mary is a restaurant specialising in artistic mastery of everything burger related. Bob & Mary boasts a distinct architecture and a stylish interior design, all based in the bustling Media Harbor. Its creative ideas come directly from its well-travelled owners, united in the passionate pursuit of designing the perfect concept burger restaurant. Besides juicy burgers, this one serves crispy salads, sesame chicken, and fresh, mango-packed fruit deserts.
7. ROCAILLE
This intimate bistro style restaurant has only been open for 11 months and is already packed with locals inside and out most nights of the week. The brain child behind Rocaille is long-term sommelier turned restauranteur Michael Spreckelmeyer who has crafted the best wine list in the city. His team in the kitchen focus on seasonality and simplicity, ensuring only the best ingredients are used in all items on the French and Tuscan themed menu.
"These simple dishes are my signature because it means you need only the best ingredients and you can't hide behind them." – Michael Spreckelmeyer
Lucky for us, we were just in time for asparagus season and were treated to a number of dishes focused around the delicate white asparagus including a creamy risotto made with love and cooked to perfection. Not to be forgotten is the in-house patisserie where each bite will transport you to the patisseries in France; where the pastry chef studied and trained at the famous Le Cordon Bleu Paris.
Tags :
Dusseldorf
foods
restaurants