Top Tourist Attractions In Sacramento
About 93 miles northeast of San Francisco is California's lovely capital city, Sacramento. The city has several interesting museums, and Old Sacramento, with its historic buildings, shopping, and dining, is a great place for tourists to do some sightseeing or simply relax. The best time to visit is generally between spring and fall. This is a great time of year weather-wise and is also when the city hosts some of its most prominent festivals and events. Find the best things to see and do in this city with our list of the top tourist attractions in Sacramento.
Top Tourist Attractions In Sacramento
1. California State Railroad Museum
With a floor area for exhibits of more than 200,000 square feet, the California State Railroad Museum is among the world's largest railway museums. Located in Old Sacramento, this museum is one of the premier attractions in the city.
It houses restored steam locomotives and railway coaches dating from 1862 to 1944. Almost all the wagons can be viewed inside. Some cars are furnished, complete with dining place settings, which show the level of comfort once offered on the trains. You can walk through a sleeper car as well.
Exhibits also focus on railroad history and other related topics. Families with children will appreciate the Kids' Corner educational programs and All Aboard for Story Time book readings.
During the summer months, the California State Railroad Museum operates trains along the Sacramento River. Riding aboard a historic steam locomotive or a vintage diesel train is sure to be one of the highlights of your visit.
2. State Capitol
One of the top tourist attractions in Sacramento is the State Capitol building. This structure is an excellent example of Neoclassical architecture and was built in the 1860s.
But the colorful gardens, extending over several blocks, with tall palms and numerous other species of trees and plants, make the building one of the most beautiful Capitol buildings in the United States. Several rooms are dedicated to the State Capitol Museum, with portraits and various other artworks, as well as antiques.
Since December 1988 a bronze group sculpture, the Vietnam War Memorial, has stood in the northeast part of Capitol Park (L and 15th Street); its construction was entirely funded by donations, and it commemorates those who sacrificed their lives in the longest war involving the USA.
3. Tower Bridge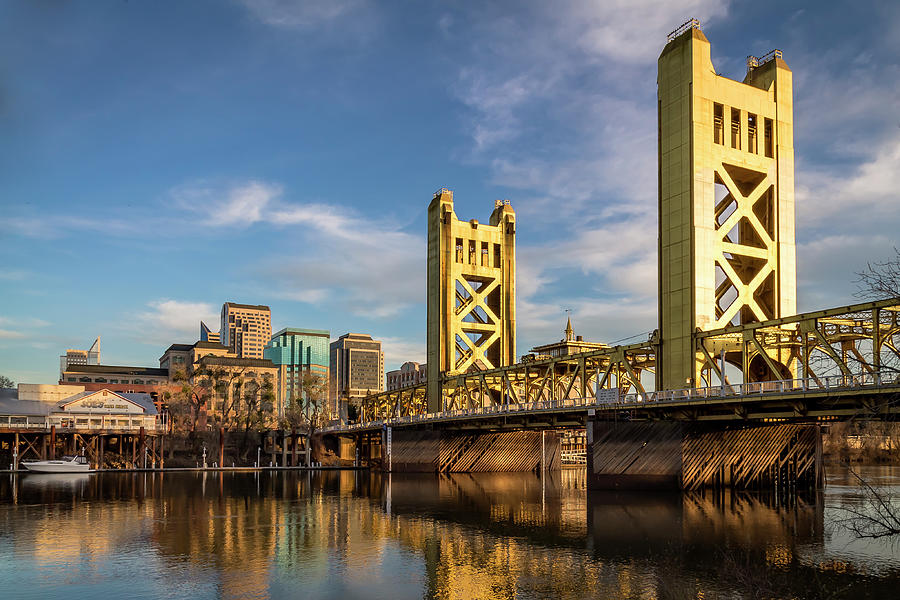 This vibrant golden lift bridge across the Sacramento River is difficult to miss as it connects West Sacramento to downtown East Sacramento. Although it is rather a young bridge, built back in 1934, it still holds great significance as it was officially included in the National Register of Historic places in 1982.
Interestingly, this art deco-style bridge was initially painted silver at the time of its creation, but after some complaints the bridge actually went through a fair number of color changes; its recent gold coat was the result of the most popular vote back in 2002.
4. Governor's Mansion and Leland Stanford Mansion
The 30-room Governor's Mansion has housed 13 governors since 1903, but after then-Governor Ronald Reagan's short-lived residency of four months, an alternate mansion was built in Carmichael to house Jerry Brown. California governors have lived in different houses and hotel suites, but the original mansion was back to its full swing when Governor Jerry Brown moved into the residency in 2015.
Leland Stanford Mansion was also home to several governors and offers daily tours—some even speculate this peculiar mansion is haunted.
5. Old Sacramento
Old Sacramento covers eight blocks (28 acres) of historic buildings along the city's waterfront, designated as a National Historic Landmark. Some of the Gold Rush-era structures are now part of the Old Sacramento State Historic Park, including the Eagle Theater built in 1849, the B. F. Hastings Building (circa 1853), and the Big Four Building dating to 1855.
Old Sacramento includes more than 50 historic buildings, mostly from the 1850s, which represent the city's original commercial district, an area that once thrived thanks to the commerce propelled by the Pony Express and the transcontinental railroad.
The buildings are still occupied by over 125 locally owned shops, restaurants, hotels, and museums, which makes the area appealing for tourists.
Fun things to do in Old Sacramento include taking a jaunt in a horse-drawn carriage, boarding a riverboat excursion, or a climbing aboard a vintage locomotive for a railroad ride.
6. Sacramento Zoo
The history of the Sacramento Zoo is fascinating as it shows how the zoo went from being "the little zoo in the park" to the large, impressive zoo that you will get to experience today. Initially the zoo was very small and housed about 40 animals that were collected from local parks.
Now the zoo has 400 animals from all corners of the globe and focuses its energy on education, recreation and conservation. There is so much to see and experience here and the children especially, will thoroughly enjoy meeting all the animals.
Tags :
Sacramento
Tourist Attractions
travel